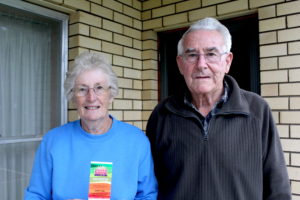 Double demerits for Easter: Double demerit points will be in force for five days over the Easter holiday across the state starting today until Monday, 17th April. Double de- merit points will apply to all speeding, seatbelt, mobile phone and motorcycle helmet offences. NSW Police will also be target- ing dangerous driving behaviours such as drink driving and driver fatigue.
"Drivers should be warned they are at greatest risk of losing their licence dur- ing this period. There will be more Police on the roads and therefore more chance of getting caught and losing points," said Parkes, Forbes and Lachlan Shire Coun- cils' Road Safety and Injury Prevention Of- ficer, Melanie Suitor.
"I ask all drivers to remain vigilant over the Easter holiday period. We all have a part to play in reducing the amount of crashes and risks."
Cultural grants: Applications for the 2017 Parkes Shire Council Cultural Grants are open to local groups and organisations un- til Thursday, 4th May.
The aim of the grant program is to encourage and support the development of local community organisations, services and strategies which make a positive contribution to the community and cultural life of the Shire. Applications must request a grant of at least $2,000 with the total funding pool at $9,800.
Funding categories include subsidy for a new project, extension or enhancement of an existing project, purchase of equipment or minor capital works.
Application forms are available on Council's website, www.parkes.nsw.gov.au, or at any Parkes Shire Library (Parkes, Peak Hill, Trundle and Tullamore). Contact Council's Grant Officer Sally Chap- man, 6861 2398 for advice and support in completing the application. Successful ap- plications will be announced in June 2017.
Fashions on the green: Lights, camera, fashion! The Tullamore Irish Music Fes- tival invites guests to put their greenest foot and fashion forward to rock the green runway. There are categories for the Lady, Leprechaun and the Wee Ones under 13, each with a lush little prize. Fashions on the Green will be judged early Satur- day afternoon. Each year on the Easter Long Weekend, Tullamore turns green with visitors from across the country, cel- ebrating all things Irish. Across the three days, there'll be plenty of music, dancing, games, food, fun and fashion (of course) to keep everyone entertained. For more information visit www.tullamore.org.au.