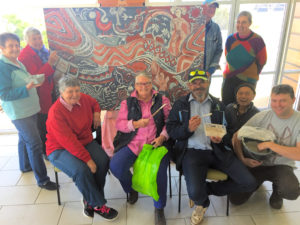 Public Speaking: A total of 77 students from 18 schools participated in the Oxley Group CWA Public Speaking competition in Condobolin recently. Twelve students from Parkes and Trundle have progressed to the inter-group level and will compete against students from the Orange-Bathurst area and Narromine to Bourke area in June.
They are: Years 3-4: Highly Commend- ed (HC) Oliver Mayo (Parkes Christian School) and Samuel Rivett (Parkes East); Years 5-6 : 1st Genevieve Bland (Parkes Public) and HC Hannah Dun (Parkes Christian School); Years 7-8: 1st Eliza- beth Hoyle (Parkes High), HC Hamish Sanderson (Trundle Central), Alleyne Gaut (Parkes High), Nina Gaut (Parkes High); Years 9-10: 1st Ellie Hillier-Stanbrooke (Trundle Central), HC Robbie Stokes (Trundle Central), Jasmin Dalton (Parkes Christian School), Kiana Schembri (Parkes Christian School).
Free Breakfast: A free forum will be held at the Forbes Inn on 8th June to explore the current road safety and freight issues affecting the local heavy vehicle industry.
The Central West NSW Heavy Vehicle Breakfast Forum is part of the annual road safety calendar for Parkes, Forbes and Lachlan Shire Councils. This year includes a workshop about the new safety rules coming into effect next year with regards to chain of responsibility.
There will also be presentations about compliance and enforcement, a proposed low volume gate access scheme and the councils' achievements in the past 12 months in improving access and education. For catering purposes registration is required – contact 6861 2364 or Melanie. Suitor@parkes.nsw.gov.au .
Arts Funding: Local groups with arts projects in mind can apply for the 2018 round of Country Arts Support Program funding.
The annual program of State Government provides small grants up to $3,000 to arts and community organisations in regional NSW to run their own local arts projects. Applications close Thursday, 27th July.
In 2018 it's expected there will be around $18,000 to distribute in the Central West region. Priority areas are arts and health, Aboriginal arts, and cultural tourism and lifelong learning (education or training projects for any age). The funding is open to all incorporated associations, not just those focused on the arts. Groups wishing to ap- ply must discuss their project with Arts Out- West before submitting an online application. To apply, read the funding criteria at http://regionalartsnsw.com.au/grants/casp/ and contact Arts OutWest on 02 6338 4657 or email artsoutwest@csu.edu.au