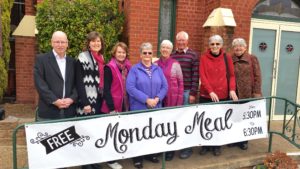 Free Dinner: A free evening meal is being offered to the community of Parkes on the first Monday of each month, commencing Monday, 3rd July from 5.30 to 6.30 pm in the Uniting Church Hall in Court Street. The doors will be open to anyone who would like to be part of this monthly gathering.
A guaranteed scrumptious home cooked nutritious meal will be prepared by the Uniting Church members and offered to residents of Parkes at no cost.
All are welcome, especially families, also folks looking for company and those who have stretched budgets.
Many thanks to Coles, St. George's Pantry, Parkes Stationery and Christine's Sign- writing who have all helped to make this venture possible!
Winter festival: The Bathurst Winter Festival runs from 1st to 16th July featuring an ice rink and a ferris wheel and two-storey carousel for the duration of the festival, and a Brew and Bite on Saturday 8th July with markets, entertainment, food, wine and beer and many more. Visit www.bathurstwinterfestival.com.au for more information.
Peace Precinct: The Rotary Club of Parkes will host the re-dedication of Parkes as a Rotary Peace community by Mayor Ken Keith on Wednesday, 28th June.
Parkes was declared a Rotary International Peace Community in 2012. How- ever the site of the commemoration was deemed inappropriate, so the club has overseen the construction of a Peace Precinct that can be enjoyed by the whole community and is a worthwhile addition to the Rotary Arboretum.
Rotary invites the general public to the ceremony next week at 11am. The Peace Precinct is in the park on the East Street side near the corner of Bushman Street.
The club will provide tea and coffee and sausage sandwiches provided free to school children and a gold coin donation for adults.