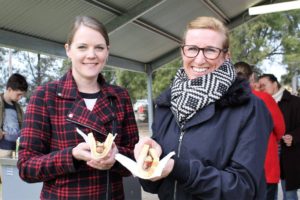 Westpac boosts local groups: One lucky community group could be the recipient of $500 thanks to Westpac's Local Boost program. Westpac celebrated 200 years at the beginning of April and as part of their celebrations want to give back to the communi- ties that support them. Local charities and non-profit groups are invited to nominate themselves for the prize by writing a short entry describing the group and what they plan to do with the money. Charities and groups don't need to be Westpac custom- ers to enter. The winner will be announced on the 28th July.
Submissions can be sent to Bank Manager Dean Messiter at dmessiter@westpac. com.au. Entries close on Friday 14th July.
Community Building Partnership: Local councils and not-for-profit groups are encouraged to apply for funding requests through the 2017 Community Building Partnership (CBP) program. CBP grants are available annually for community infrastructure projects that deliver positive social, environmental, and recreational outcomes. Through the program, the NSW Government ensures funding is available to support organisations that think first- and-foremost about the needs of locals. The grants can pay for much-needed improvements to local facilities that promote participation in the local community.
For more information, visit: www.communitybuildingpartnership.nsw.gov.au. Applications close on Monday 9th August.
Country Arts Support Program: Artists and organisations are invited to apply for the Country Arts Support Program (CASP). Small grants are available for short term, locally initiated projects that support one or more of the following groups; Aboriginal people, youth, people with disability, people from culturally and linguistically diverse backgrounds, and residents of regional New South Wales.
Applicants must discuss their project with the Arts Outwest office before submitting an application. So, got an idea for an arts project? Don't be shy, give Arts Outwest a call on 02 6338 4657. Applications for 2018 projects close Thursday 27th July.
Funding applications open for Veterans' Health Week: Community groups and ex- service organisations could apply for fund- ing to support local events organised for Veterans' Health Week 2017. The theme for this year is 'physical activity'. Minister for Veterans' Affairs Dan Tehan said "Veterans' Health Week events will help connect veterans with their local communities and should be a lot of fun for everyone."
The funding application form, and further information is available at https://www. dva.gov.au/health-and-wellbeing/healthevents/veterans-health-week. Applications close Monday 31st July.