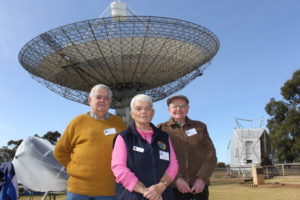 AstroFest reaches for the stars: It was another stellar turnout for the Central West Astronomical Society's annual conference. CWAS President Christine Spears said that the event was extremely well attended, and attracted around 100 astronomers and enthusiasts from all over the country. She credits the ongoing success with the calibre of the speakers, many of whom are excited to participate in the event as it is connected to a world class facility.
Winners are grinners: Congratulations to Kerry Roach, the lucky winner of our Taronga Western Plains Zoo Package!
The Henry's are back and better than ever: The Henry Business Awards have had a make-over. This week the Parkes Chamber of Commerce announced a new and improved award categories, which will be judged online by external judges – with the exception of the Ken Birch Memorial award. But perhaps the biggest news is that the awards are now annual, so there are more opportunities for local businesses to shine! Nominations for the 2017 awards will be opening soon. Hosted by the Parkes Chamber of Commerce, The Henrys Gala Presentation will be held in October. Go to parkeschamber.com.au/awards for more information.
Council welcomes new Rotary district governor to town: Parkes Shire Council has officially welcomed the newly elected Rotary District Governor to the Parkes Shire at a civic reception held on Monday. Parkes is the second town Mr George Weston and his wife Carol, from Leeton, has visited as part of his first tour of the Rotary District 9700, which comprises 40 clubs across regional New South Wales. Parkes Shire Mayor, Cr Ken Keith said
"Rotary play an integral role in our community – making positive, lasting change not
only in Parkes but the wider region."
Focus on Farm Safety 17 -23 July: National Farm Safety Week aims to raise awareness of farm safety issues in rural communities across Australia. This year's theme for Farm Safety Week is "Creating a resilient, safe and healthy ag community", and seeks to focus on the practical issues that farmers can take to improve safety for themselves, their workers, family members and farm visitors. This in turn leads to better productivity and improved returns for
the farm business – "Safety doesn't cost, it pays". For further information contact Farmsafe on 02 6269 5622 or via email info@farmsafe.org.au