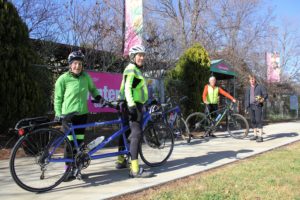 Tour de Parkes: Calling all riders – join a group of social cyclists on Saturdays. The informal group meets at Greenparkes Nursery at 10am on Saturdays and pedal out on a ride together. The group choose circuits of various distances, and ensures riders of all abilities are catered to. Bicycles of all kinds are welcome. Barbara and Peter Guppy will often be seen peddling out on their tandem bicycle. The group is more about making friends and having fun than being ultra-competitive. So, come on Parkes, get on your bike!
Visitor Economy Workshop: Parkes Shire Council is hosing a Visitor Economy Workshop on Monday, 7th August at the Astro Dish Motor Inn. The workshop is aimed at tourism operators and other related businesses to discuss the projects, campaigns and initiatives that Council will undertake to grow the visitor economy of the Parkes Shire.
The agenda includes a range of items from destination management planning to major festival and event opportunities, and will be a great opportunity to network with fellow tourism operators while also learning how to leverage the programs and initiatives that Council will deliver to drive the visitor economy. For workshop details
visit www.visitparkes.com.au or phone the Parkes Visitor Information Centre on 6862 6000.
Authors In Parkes: Two special authors will visit the Parkes Shire Library during August. On Saturday, 5th August at 10.30am Parkes author Erica Brazel is launching her recently published children's picture book. I'm Special and it Shows from my Head Down to my Toes is a book to help children learn more about their different body parts. Erica was born in Lake Cargelligo, and moved to Parkes when she was 14. After living in Canberra, Sydney and Newcastle Erica married and moved with her husband back to Parkes to have their family.
The children's book was inspired by Erica's sons and their amazing, inquisitive minds. On Wednesday, 23rd August at 6pm Scott Whitaker will talk about the release of his new book Railway Hotels of Australia ~ Volume Two ~ New South Wales.
He will also talk about the coming of the railway, the social development of regional NSW, researching tips, genealogy, local and state history, and publishing. Please RSVP if you wish to attend on 6861 2309 or library@parkes.nsw.gov.au