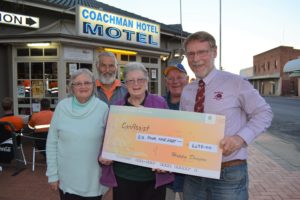 The annual Parkes Boars vs Forbes Platypi: Game raised $6,500 for CanAssist this year. The funds came from
the auction of the first grade team special jumpers at the Coachman Hotel (a major sponsor) with auctioneer Geoff Rice from Langlands Hanlon (also a sponsor). In addition to the auction, half the gate takings were donated to CanAssist, a donations bucket was at the gate and an esky was raffled. At the cheque handover were (L-R) Carol Southwell, Trevor Southwell, Pat Bailey, Tom Snow and Ed Lowe.
Mock crash demo: Parkes residents are invited to the annual mock car crash demonstration on Monday, 21st August at 7pm at Parkes PCYC. "We are really excited to open our final rehearsal to the public," said Parkes, Forbes
and Lachlan Shire Councils' Road Safety and Injury Prevention Officer, Melanie Suitor. The hour-long event starts with a short film before the mock car crash demonstration begins. There is a full emergency response involving NSW Police, NSW Ambulance and Parkes SES with local youth actors playing the roles of the crash victims. The demonstration will be attended by more than 500 students from nine local high schools across the three council areas on 24th August.
It's easy to share: Haylee Pottage is a Parkes resident and volunteer with Share the Dignity, an organisation that provides sanitary items to homeless and at risk women. Haylee has set up donation boxes around Parkes at Joblink Plus, Rob Dunford Chemist, Charisma Hair Design and La Bella Me-dispa for the organisation's collection drive during August. You can also contact Haylee on 0405 197 322 to make a donation. More information available at https://www.sharethedignity.com.au/
Home is where the heart is: Parkes home owners have a chance to share in the revenue of the Parkes Elvis Festival. With over 25,000 visitors expected for the 2018 festival, locals are encouraged to open their homes as part of the Ray White Home Hosting Program. With only five months to go, Parkes accommodation providers are booked to capacity with an unprecedented volume of enquiries, and a waiting list of 300 people for Home Hosting accommodation already. Festival Director Cathy Treasure said: "Accommodation is the biggest challenge as the event continues to grow. Home hosting is a great opportunity for attendees to grasp the positive community essence that Parkes is renowned for. It's also a wonderful opportunity for local homeowners to welcome visitors into their homes, showcase our region, contribute to the economic and social value of the event and build ongoing friendships for future Festivals." Local home owners are able to rent out a spare bed, room, or whole house to visitors.
If you are interested, contact Ray White Real Estate on 6862 1900 or via elvis.parkes@raywhite.com. More information at www.parkeselvisbookings.com.au.