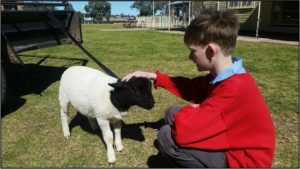 RSPCA Fundraising: Middleton Public School students participated in a fundraiser for the RSPCA at the end of last month. Jan Charlton and Anne Norton brought in chicks, ducklings, calves, lambs, a working dog and rabbits for the students to handle and feed. Children raised $200 to assist the charity. The students referred to Bruno, a Dorper lamb, as a goat, but he was very well behaved and loved all the attention. The petting babies were very popular too, though a little worn out by finishing time. Later in the day Sarah Nagle from the RSPCA Sydney visited for a presentation about what they do to assist stray, unwanted or mistreated animals. Students saw a video of a puppy
stuck in a wombat hole and cheered loudly when the rescue was successful.
Tea cosy competition: Cosies at the Corner is an exhibition and competition for tea cosies of all kinds with keen interest already from Orange, Narromine, Lithgow, Manildra, Condobolin and Toowoomba, as well as local crafters.
These days a must have accessory for all kitchens is a novelty tea cosy. Entries are open and for free, but restricted to one entry per category. The categories are: Festival – Christmas, Elvis, ABBA, Irish, etc; Floral Splendour – flowers, garden theme; Treasured Memories – traditional designs eg Grandma's favourite; and Weird and Wacky – anything goes!
Prizes of $50 will be awarded for each category, and for Champion and People's Choice. Cosies must be knitted or crocheted from yarn. Fabric and any combination of fibres may be used for decoration. Entries should be at Craft Corner at 227 Clarinda Street in Parkes by Friday, 15th September. The Grand Opening and Devonshire Tea on Friday, 29th September at 4:30pm is open to everyone, and includes a tea tasting, courtesy of Wholesome Blend. The exhibition will run until mid-October. Entry forms available at craftcornerparkes@gmail.com and from the Craft
Corner. For enquiries phone 6862 3240.