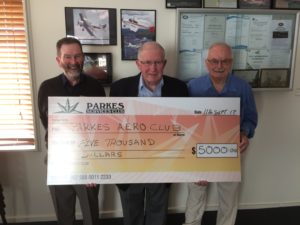 The Parkes Aero Club (PAC) is celebrating its 70th anniversary next year with a public airshow, the Parkes Aero
Spectacular, on 14th April 2018. The Parkes Services Club joined up as a gold sponsor this week with a $5,000 sponsorship. Pictured are (L-R) Manager of PSC Dennis Lane, President of the PSC Terry Knowles and Warwick Tom of PAC.
Marriage Equality: The Australian Bureau of Statistics (ABS) has started the delivery of Australian Marriage Law Postal Survey materials to more than 16 million eligible Australians to collect their views on whether the law should be changed to allow same-sex couples to marry. Detailed information about the survey is available from www.marriagesurvey.abs.gov.au or by calling the Information Line on 1800 572 113 from 8am to 8pm (AEST), seven days a week. All eligible Australians are encouraged to return their forms. Results will be published on the ABS website on 15th November.
Spring Photo Competition: The Parkes Phoenix has teamed up with Chemical Creations Photography to launch a spring photo competition. With Spring all around us, you can point your camera just about anywhere to get a scenic shot. We would love to see the great photos our readers can come up with. A wonderful prize is up for grabs – a family photography session including 20 high resolution images with Chemical Creations Photography! The competition will run until the end of October, with entries to be submitted to The Parkes Phoenix by Tuesday 31 October. Entries can be sent to sales@parkesphoenix.com.au or via our Facebook page.
Happy Birthday Parkes Day VIEW Club: About 50 members and guests celebrated the club's 48th anniversary last week, as well as thanking Krys Szabo for her membership of 20 years. Member Adrienne Bradley's beautifully decorated cake was outstanding and very popular. The theme was Buttons and Bows with three ladies winning prizes for their brilliant outfits. Congratulations to Rhonda Redenbach (1st), Krys Szabo (2nd) and Sister Flo (3rd). By Sue McLennan (See photo on page 6).
#Montefamousreview: Gretta Ziller – Queen of Boomtown. Gretta is a Melbourne artist who has had a very diverse musical journey. With a background spanning rock, pop, classical, jazz, folk and bluegrass, Her much anticipated album Queen of Boomtown has burst into the music sphere living up to its name, as her voice booms at the right times, and sooths you tender moments. Gretta is simply stunning; her voice takes you to beautiful places as she sings her heartfelt stories. She will also rattle your musical soul with her masterful command of lyrics. Queen of Boomtown is a brilliant example of alternative country story telling. This album is the #Montefamous Review must have for September.