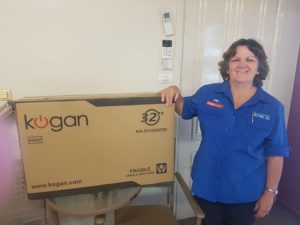 CONGRATULATIONS… We have a winner. Kim from Mitre 10 is the owner of a brand new television after winning The Parkes Phoenix Footy Tipping competition.
Life saving apparatus: Parkes Shire Council has invested in five Automated External Defibrillator (AED) machines to increase the chance of survival of a staff member or member of the public who suffers a sudden cardiac arrest. The units are installed at Council's Administrative Building, Works Depot, Library and the new Water and Sewage Treatment Plants. Parkes Shire Deputy Mayor, Cr Barbara Newton said: "Council's First Aid staff have been trained to use the devices."
Go bold: The regional biennial Rural Arts & Culture Symposium will be held in Forbes tomorrow. This year's symposium has a specific focus on 'being bold' – people, ideas and approaches that step outside the traditional or take big leaps in regional arts making. The symposium is co-hosted by regional arts development organisation Arts OutWest as the final event of the Kalari Lachlan River Arts Festival. A free event open to the whole community from 10:15am to 1pm at Forbes Services Club.Special guest speaker is Alex Wisser, director of the Cementa contemporary arts festival in Kandos. Bookings essential via www.eventbrite.com.au/e/rural-arts-and-culture-symposium-tickets-37376292497, call 6338 4657 or email artsoutwest@csu.edu.au
Spring Photo Competition: The Parkes Phoenix has teamed up Chemical Creations Photography to launch a spring photo competition. We would love to see the great photos our readers can come up with. A wonderful prize is up for grabs – a family photography session including 20 high resolution images with Chemical Creations Photography!
The competition will run for the rest of September and October, with entries to be submitted to The Parkes Phoenix by Tuesday, 31st October. Entries can be sent to sales@parkesphoenix.com.au or via our Facebook page.
#Montefamousreview: Anna O – Reckoning: Reckoning, Anna O's latest release, is a brilliant blend of electronic, pop and RnB. Each track is filled with emotive audio imaging that is brought to life magnificently by Anna O's powerful voice. The music has a deep pulsating beat and ingeniously crafted melodies that complements the lyrics being delivered so purely. While some of the tracks have a darker pop feel about them, Anna O still delivers a positive message. Reckoning is an EP that you can put on any time day or night and feel good about what you're hearing, it's the perfect EP to relax to. Let Anna O's superb vocals tell you a musical story.