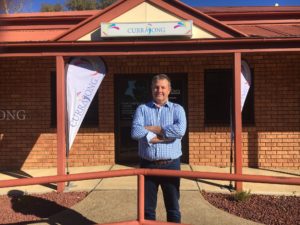 NDIS At Your Fingertips: WesterNDIS has launched recently, bringing together the National Disability Insurance Scheme (NDIS) expertise of four trusted local notfor- profit businesses to support people across western NSW to get the most out of the NDIS. The WesterNDIS portal is a collaboration between Birrang Enterprise Development Company, Currajong Disability Services, Marathon Health and The Westhaven Association. It will connect people with a disability, their carers and support people to a range of NDIS services across Western NSW. People with a disability, their carers or support workers can visit www.westerndis.com.au to register, email ask@westerndis.com.au for more information or go to Facebook.
Ranger safety and animal welfare: Parkes Shire Council has invested in a new system for safely capturing, transporting and holding impounded animals. A K-9 Kube has been fitted onto the back of Council's two ranger utility vehicles and has a hydraulic lift to allow dogs to be load-ed at ground level and moved up onto the tray of the vehicle without being lifted by the ranger. The K-9 Kube was developed to solve the work, health and safety issues associated with handling animals, including problems of dog bites, scratching, and lifting injuries. Previously rangers had to manually load animals into a standard transporter cage on the back of their vehicles, which proved difficult when dealing with larger or uncooperative dogs. The K-9 Kube has ventilated cages with sight windows so the
condition of an impounded animal can be closely monitored and it won't suffer from heat exhaustion or lack of air.
Registrations For Free Cuppa 2018: Local businesses are invited to register for phase eight of the Free Cuppa for the Driver scheme. The driver fatigue awareness campaign will run from 1st March to 31st May next year. Drivers are encouraged to stop at participating businesses for a free cup of tea or coffee to take a break from driving. Participating businesses have reported an almost 30% increase in sales. With almost three quarters of vehicles containing two or more passengers, other purchases are evident above the driver's free cuppa. The scheme will operate in at least 24 local government areas in western and south western NSW stretching from the Victorian border to the Queensland border." The closing date for registrations is Friday, 6th October. Contact Melanie Suitor on 6861 2364 or Melanie.Suitor@parkes.nsw.gov.au