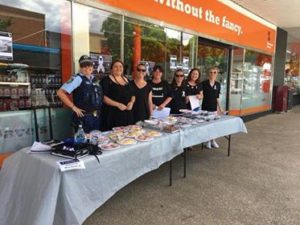 The Parkes Domestic and Family Violence committee raised $239.20 from its cake stall in the main street last Friday to donate to White Ribbon. Rascals Indoor Play Cafe kindly donated the cakes. Pictured are members of the committee at the cake stall.
Gold Sponsor For Parkes Aero Spectacular: Parkes Aero Club will celebrate its 70th anniversary on 14th April next year with a thrilling fun-filled day of skilled aerobatic displays featuring some of the best pilots in Australia. Northparkes Mines has come on board as a gold sponsor contributing $5,500. This sponsorhip provides the club with much needed finance to publicise and fund the day's activities together with the other gold sponsors, Parkes Shire Council, HARS and Parkes Services Club.
Get It Sorted Winners: The three lucky winners of the Woolworths gift vouchers in the Get It Sorted competition are: 1st prize Nancy Kingham – $100; 2nd prize Kath Mann – $70 and 3rd prize Heidi Field – $30. Congratulations and happy Christmas shopping with your vouchers!
Keeping Firearms: Effective from 1st September this year, you are required to store your firearms at your primary residential premises, which is the address where you most often reside. This means if you reside mainly in town but spend a fair amount of time on a rural property, you are required to store your firearms at your town address. This change has come because of a significant amount of firearm thefts from unattended rural properties. Police are asking firearms owners to make changes to their storage arrangements immediately to comply. Refer to Clause 38 of the Firearms Regulation 2017, and the Weapons Prohibition Regulation 2017.
Mobile Phones A Distraction: Parkes, Forbes and Lachlan Shire Councils are reminding drivers to put their mobile phones down, after the latest observation survey recorded 29 motorists using their phones while driving. There was no improvement to the mobile phone usage rate compared to the survey conducted in April. The group most at risk are males with 14 male drivers observed using their phones. The survey also showed a 0.2% decrease, (equates 70  people) in the combined seatbelt wearing rate in comparison to the April survey. The next observation survey will be conducted in April 2018.
Remembering…: The Compassionate Friends Annual Candle Lighting at Lions Park on Orange Road will be on 10th December at 5.30pm. A special invitation to all parents, grandparents, brothers and sisters and friends who have a loved one missing from their Christmas celebrations. Call Judy for more information on 0402 599 001.
The Parkes Action Club recently held its annual Changeover Dinner. The club members contributed more than 600 hours of community service in the past 12 months. The executive was returned largely unchanged with Gary Somers as President, Bob Steel Vice President, Mark Olson Secretary, David Knights Treasurer and David Marks Commissariat. Pictured is Mark Olson addressing guests at the Changeover Dinner.