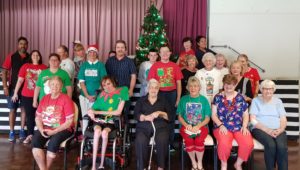 Parkes True Blue Line Dancers: Are now in holiday mode after another great year of boot scooting, vines, weaves, pivots and strutting their way through numerous dances that have been taught through the last 11 months. Our friendly group ranges from young to oldish, able and disabled, but all there for the love of a good toe tapping tune. The group are looking forward to the new year, when they start again every Monday morning from 5th February 2018. Everyone is welcome to come along, join in and enjoy the dances, music, exercise and company. A big thankyou to the Parkes Services Club for the use of the great dancefloor upstairs. Two left footed people are also welcome.
Double Demerit Points: Will be in force for 11 days over the Christmas and New Year period from Friday 22 December 2017 to Monday 1 January 2018 (inclusive) for all speeding, seatbelt, motorcycle helmet and mobile phone offences.
And the Winner Of the Best Dressed Shop Window Is: Parkes News and Gifts! Congratulations to Greg, Christine and the team for putting together such a dazzling Christmas window display! Parkes News and Gifts will receive a $500 marketing package to promote their business as part of next year's Christmas Campaign coordinated by Council and the Parkes Chamber of Commerce.
Inland Rail Update: The Parkes to Narromine section of the $8.4 billion inland rail project will be the first to receive Australian produced steel rail, the Nationals' Member for Riverina Michael McCormack has announced. "Liberty OneSteel Whyalla Steelworks will soon start rolling out approximately 14,000 tonnes of steel required for the Parkes to Narromine section of this nation-building project," Mr McCormack said. "There will be many opportunities for local businesses and job seekers in the Riverina and Central West as progress continues, with inland rail supporting thousands of jobs at the peak of construction."
Jonty Ralph: Has been a regular at Currajong Disability Services for nearly 9 years. In that time, Jonty has worked as a Carer as well as Programs Team Leader. He has also spent time in Parkes and Condobolin and if you ask any client, he is arguably one of the most well-liked and respected employers at CDS. December 18 was his last day at Currajong as he pursues a new career in the mining industry. "If I don't get around to saying bye to everyone I will take the opportunity now to say thank you to all and sundry for their support, effort and assistance which has allowed me to be a better person and carer," said Jonty.