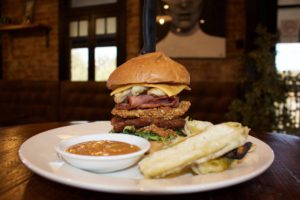 Hunger Pains?: Where would Elvis eat? The Railway Hotel that's where, because they have The Elvis Burger: peanut coated fried chicken, bacon, lettuce, deep fried pickle, cheese, aioli and peanut sauce served with deep fried banana chips and peanut dipping sauce! Plus all of the other menu favourites every day from 12 to 2pm and 6 to 9pm; Saturday food from 12 to 9pm.
Morse Code Demonstration: Members of the Sydney Morsecodians Fraternity will be providing a Morse Code demonstration during the Parkes Elvis Festival near the Westpac Bank in Clarinda Street on Friday and Saturday.
Festival goers will be able to send actual telegrams on souvenir stationery to anywhere, using the same equipment that was used in the 1850s. The telegrams will be sent from Parkes to Beechworth and posted from there to their destination using Australia Post. The public will also be able to send a message by themselves which will be printed in morse code on a monitor in front of them, or they can have their names sent by morse code on a local basis and receive it instantaneously on souvenir stationery. The display will be manned by volunteers Keith MacRae and Eddie Parrott from Parkes, Brian Mullins and Cec Mann from the Telstra Museum at Bankstown and Peter Hack from Temora.
Parkes Elvis Festival Photography Competition and Exhibit: Winners of the 2018 Photography Competition will be announced at the Parkes Arbour in Clarinda Street on Friday at 4pm. The exhibition is open for viewing during the day. Categories include best smartphone image (all ages), best digital camera image (all ages), overall champion and overall highly commended.
Disability Service: Currajong Disability Services in Parkes will be open this weekend for the Elvis Festival. Access to the disability centre and facilities is available via the Cecile Street side gate opposite the car wash and next to Parkes Shire Council. Hours of operation on Saturday are 9am to 5pm and Sunday 9am to 1pm. All people with disabilities are welcome.
Wedding Vows: Ever dreamed of renewing your vows in Las Vegas with Elvis officiating? Declare your love at the 2018 Parkes Elvis Festival at the popular Renewal of Vows ceremony on Sunday at 11:30am. Held under the 'Love Me Tender' arch at the ARTC Cooke Park Main Stage, this is a once-in-a-lifetime opportunity to renew your vows before wedding celebrant Andrew 'Elvis' Appleby. More than 500 couples have renewed their vows over the years at the Elvis Festival in Parkes. This year there will be a couple who have been married for 50 years. Surprise your partner this Sunday.
Free Entertainment: Apart from hosting the headline shows, The Parkes Services Club and the Parkes Leagues Club both offer extensive programs of free entertainment for the duration of the festival. See page 2 for more detail on the program on offer at the Parkes Leagues Club, and page 6 for the Parkes Services Club's program.
Festive Hairdo: Charisma Hair has the talented Pixie Roberts from Boogie Bop Dames as a special guest barber to create your '68 comeback hair memories this festival. Call 6862 3798 to make an appointment.
Got the G.I. Blues?: Check out the Parkes Aviation Museum while you're in town. The museum is situated at the Parkes Airport and is open today and tomorrow from 9:30am to 3:30pm.
Devonshire Teas: The Parkes Branch of the Red Cross is open for Devonshire Teas today and tomorrow (Thursday and Friday) between 9am and 2pm. The Red Cross is situated in Church Street.