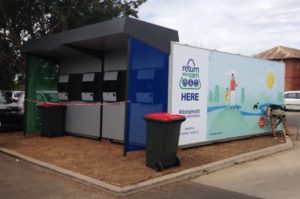 The Return and Earn: reverse vending machine, situated at the Woolworths carpark, is now fully operational in
Parkes. More than 15,000 containers have already been collected in Parkes. You can join the Clean Up Australia Day effort on Sunday and pick up drink containers to earn some extra money with!
Sunday Is Clean Up Australia Day: Parkes Shire residents are invited to join the nation-wide effort to help conserve the environment on Sunday, 4th March. Registration will take place at Lions Park in Parkes from 8am where participants will be given a clean-up kit and allocated a site. Participants in Peak Hill can register from 7.30am at the Commercial Gardens. After the clean-up, there will be a sausage sizzle in Lions Park. Remember to slip, slop, slap, wear sturdy shoes and bring some gloves. To register online, visit www.cleanupaustraliaday.org.au/?BBQ+Area+Lions+Park.
PopUp Op Shop With A Purpose: Go and shop at the Parkes Christian School hall tomorrow (Saturday) from 3 to 5.30pm to help women in developing countries through Compassion Australia. Get your friends, daughters, grans and aunts together for a fun afternoon of shopping of pre-loved fashion, and learn about Compassion Australia and how they assist mums and babies in the developing world. There will be a short information session about Compassion at 3.30pm, plus a parade and auction of some donated items. Contact Katrina Harris on 0408 601 774
or k.harris@parkescs.nsw.edu.au or visit https://www.compassion.com.au
2018 Churchill Fellowship: This prestigious award offers Australian citizens the opportunity to travel overseas to investigate a topic or an issue they are passionate about. It is for anyone who would like to see what other countries are doing in a similar field to inspire new ideas and innovation. No prescribed qualifications are required to apply and the subject of the proposed project is limitless provided a benefit to Australia is evident and a willingness to share the knowledge gained is demonstrated. Register to attend a session to gain helpful advice on how to apply and discuss your project ideas at www.churchilltrust.com.au/events. Find out more by visiting www.churchillfellowships.com.au Applications close Friday, 27th April.
Tourism Directory: Parkes will join forces with other Central NSW tourism stakeholders over the next six months to develop a regional tourism directory. The directory will bundle tourism products together, like Food and Wine, Adventure Tourism, or Culture and Heritage. Visitors will be able to search the information hub for key experiences in their chosen destination and neighbouring destinations thanks to an inbuilt geospatial feature. Local operators are encouraged to get involved in the development of the directory by listing their business with the Australian Tourism Data Warehouse (ATDW).