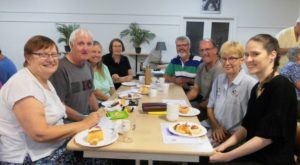 More than 60 people: took on the Day VIEW Club Trivia night at the Parkes Bowling and Sports Club last week.
The aim was to raise money for the four school children in the Smith Family "Learning for Life" program the club supports. Congratulations to the Mere Mortals team who did the best with Charlie Pecenka's challenging questions and old photos. The victors are (L-R) Jude Melville, Michael Henry, Robyn Sheridan (captain), Dot Sharpe,
Phillip Sheridan, Darryl Elphick, Fiona Quinney, and Ashlyn Kelly.
Winner: Winner of the Tullamore Irish Festival double pass is Rhonda Milgate. Congratulations!
Upgrade At Craft Corner: EFTPOS is now available for customers at the Craft Corner making it much easier for everyone. It is a step up from taking only cash, and members are doing well using the ipad-like machine. Don't worry, they will still take cash too!
Autism Month Raffle: Support Autism Month in April and buy a raffle ticket for only $2. Prizes to be drawn on 6th April at the Dinner under the Blue Dish event. Tickets available at Pink Orchid, D'Aquinos, Charisma and the Dish Cafe. Buy online at http://cwautism.bigcartel.com/product/dinner-under-the-blue-dish-raffle First prize: large acrylic painting by local artist Joseph Bondareff; one night's accommodation at Kadina B&B including Devonshire tea and breakfast; plus one family pass to the 3D theatre at the Parkes Observatory. Second prize: large acrylic/ watercolour painting by local teenage artist Ella Richards, a Dish Cafe lunch voucher and products, and one family pass to the 3D theatre. Third prize: Pink Orchid Cafe/ Florist Cafe voucher; and two family pass-es to the 3D Theatre. Fourth prize: The Dish Book and DVD package, and one family pass to the 3D theatre.
Open Day: Council's long-awaited Community Day takes place tomorrow from 10am to 2pm with guided tours at the new Water Treatment Plant and a shuttle bus to the new Sewage Treatment Plant. Wear fully enclosed, flat shoes. Further details at www.parkes.nsw.gov.au
Aero Spectacular: The Parkes Aero Club was formed in 1948 shortly after the RAAF Station was decommissioned. The club represents one of the oldest continuously operated aero clubs in Australia, supporting primary and advanced recreational (AR) and general aviation (GA) training in the Central West of NSW. It is a not-for-profit community sporting organisation, operating out of the recently upgraded Parkes Regional Airport. Don't miss out
on the club's 70th anniversary on 14th April with a spectacular air display, including the famous Air Force Roulettes. Apart from the air display, there will be on ground static displays of antique aircraft and cars, merchandise and food stalls, jumping castle and other attractions for children. Gates open 10am, air display from 12 to 3pm. Entry fees $60 (2 adults 2 children), adults $25, to 18 years $10. Win a free flight in the prize draw for all online purchases through 123 Tix.