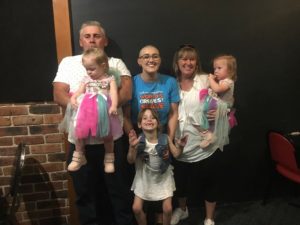 Trilbie's Great Shave: Trilbie Bermingham participated in the World's Greatest Shave at the Parkes Hotel on Friday 16th March to raise money for the Leukaemia Foundation for vital cancer research. As of 22 March, Trilbie has raised $2,606 for the event. Well done to Trilbie, and all who participated and donated.
Sydney Royal Easter Show: Congratulations  to Kathleen Mann for winning the family pass to the Sydney Royal Easter Show. Have fun!
Essential Advocacy: Essential Energy is seeking people to represent customers and key consumer groups on electricity network issues as part of its Customer Advocacy Group. Regional Manager Northern, Mark Summers, said the group provided Essential Energy with a valuable insight into customers' views on energy issues. The Customer Advocacy Group meets regularly and represents consumer groups, low-income households, Indigenous and ethnic groups, people with disabilities, residential and business customers, those in rural and remote areas, and primary producers. To download a copy of the Customer Advocacy Group charter and member role description, visit essentialenergy.com.au/cag. Applications are open until 5pm Thursday, 12 April 2018 and can be completed via the
online form.
Daylight Savings: Just a reminder that daylight savings ends this Sunday, 1st April, and to turn your clocks back an hour (if you still have watches and clocks that don't automatically do it for you, that is).
Parkes Aero Club History: The Parkes Aero Club (PAC) was formed in 1948 shortly after the RAAF Station was decommissioned and is a not-for-profit community sporting organisation, operating out of the recently upgraded Parkes Regional Airport. The club represents one of the oldest continuously operated aero clubs in Australia, supporting primary and advanced recreational (AR) and general aviation (GA) training in the Central West of NSW.
Over the years, PAC Inc has organised and hosted numerous fly-ins, competitions and national events, such as the Australian Aerobatic Championships and major PAC airshows in '85 & '95 featuring the Air Force Roulettes. Come and see the Roulettes and several multi engine planes from HARS, such as the Caribou, Convair, DC3, Neptune and Catalina, as well as Paul Bennett's aircraft performing their amazing routine, at the club's 70th anniversary on
14th April.