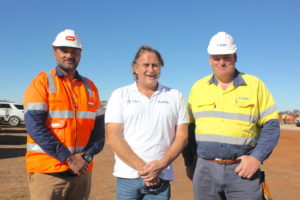 The Parkes Solar Farm stopped work on Tuesday to join approximately 50,000 Bouygues Construction employees, temporary workers and subcontractors around the world for the company's annual health and safety day.
Guest speaker Nigel Smith, representing icare and the Australian Paralympic Committee, related his story of when he worked in Newcastle and got caught in a chain con- veyor at the age of 25 and lost a leg as a result.
It brought a dramatic change in his life – as a very active and keen sportsperson before the accident, he became angry and felt sorry for himself after the accident.
He eventually started playing social volleyball and in 2000 he represented Australia at the Paralympics in Australia. "Words don't come easy to express what I felt. It was one of the proudest moments of my life repre- senting my country in my country. It was just the most phenomenal experience."
Nigel's message was that workers should always be looking out for each other, as the impact of a major injury on your own life and others around you, is very hard to deal with. He said even someone who had just witnessed an accident could be severely affected.
Wiradjuri elder Rob Clegg who did the welcome to country, had the same message for the 70 odd workers saying family always comes first, and "at work your fellow workers are your family".
"In the Wiradjuri culture we take care of self and others, we have been here for thou- sands of years and we are still healthy."