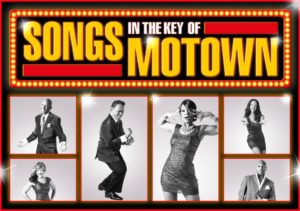 By popular demand, the all-singing, alldancing Songs In The Key Of Motown is coming back to Australia! Two of the best and biggest Las Vegas soul shows are coming together again and bringing with them the best in soul and Motown music. Transporting audiences back to the era where The Temptations, The Supremes, Stevie Wonder, Martha & The Vandellas, Smokey Robinson and the Miracles reigned supreme. Songs In The Key Of Motown will literally leave you breathless.
It is a spectacular live concert production that takes you on a journey through Motown. Featuring Spectrum, a first-class vocal quartet that draws upon the talent of four radiant voices and diverse personalities. They have spent six stellar years recreating the sound and style of the Four Tops in Las Vegas. Superstars and Legends In Concert
the group has developed the versatility to credibly cover the music of groups from the Platters to the Temptations to Boyz-2Men. It is this versatility that has propelled them to the status of headlining their own shows in which they perform stirring renditions of all the best cover tunes. They have teamed up with Radiance, a talented vocal quartet formed specifically to pay tribute to the Disco and Motown era paying tribute to the music of The Supremes, Martha & The Vandellas, The Marvelettes and other female artists from that amazing musical era. Together they have created SONGS IN THE KEY OF MOTOWN, a spectacular show transporting audiences back to an era of music that formed a major cornerstone in American music of the 60's and 70's. The costuming, the choreography,
the harmonies, the energy and excitement are second to none.
Together they provide an array of talent that is the best in entertainment that leaves audiences wanting more! See them perform on Thursday, 24th November at the Orange Civic Theatre.