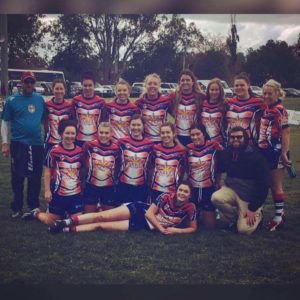 The Spacecats fought back with determination last Saturday to walk away with a 22-12 win against the Forbes Magpies in the first round of the lead up to the Group XI grand final. After the previous week's shock loss
against the same team, the Spacecats played the game they wanted to play at Spooner Oval in Forbes, even though the first points went to the Magpies. The scoreboard lit up after a strong run by Sami Afele to go over, and a great kick from Sam Cox put Parkes in front by 2 with 3 minutes till drinks. Forbes took the lead again scoring on half time.
The Maggies started the second half firing on all cylinders and keen to get the first points of the second half. But the Shayna plane ran through the Forbes defence with Claire Barber adding the extras. Demi Winter took Parkes' third and Claire scored from the sideline. Forbes tried to match the Parkes side and added another 4 to their tally taking them to 12.
Parkes took a deep kick into Forbes territory and Demi went over in the corner for her second to bring the total to 22. On Sunday the Spacecats play minor premieres CYMS in their territory at Caltex Park in Dubbo at 10:30am. The winner will go straight into the grand final on 11th September at Caltex Park.
By Kim Ryan