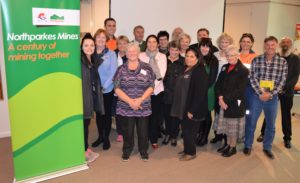 Fourteen learning institutions received a valuable package from the Galari-Lachlan Reconciliation Group last week.
"As part of our desire to share culture and knowledge with the community, we put together a Wiradjuri Cultural Exchange package with a grant we received from CMOC NorthParkes mines," said David Acheson, co-chair of the group.
The package includes material for the teaching of Wiradjuri and includes a Wiradjuri to English Dictionary, a DVD titled "Yindyamarra Yambuwan", which is a 15-minute film in Wiradjuri language, a book containing a transcript of the film, an animated DVD with children's songs in Wiradjuri language and a DVD of common phrases in Wiradjuri.
At the presentation event with representatives of the institutions, the DVD "Yindyamarra Yambuwan" was shown with introductions from Dr Uncle Stan Grant and his  sister Aunty Flo Grant. They talk about the importance of respect in the Wiradjuri culture.
The project was initiated with a donation by the Sisters of Mercy who funded the donation of dictionaries to schools. Sister Florence Kinsela of the Parkes Sisters of Mercy was present at the occasion. The packages were handed over to Nurture  One Children's Centre, Parkes High School, Parkes Public School, Parkes East Public School, Holy Family Primary School, Middleton Public School, Parkes Early Childhood Centre, AECG, Parkes Christian School, Bluebird Early Education Centre, Central West Daycare, Parkes Shire Library, TAFE Western Library Parkes, Forbes Wiradjuri Language Group and Bedgerabong Public School.