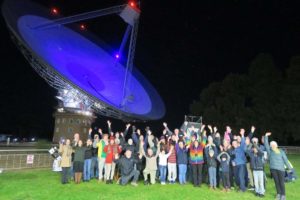 A seven-day-old moon was hanging in a gloriously clear sky when 35 people observed it through telescopes and binoculars for ten minutes with the blue dish as a beautiful backdrop. On very short notice, the Parkes Radio Telescope took part in the national stargazing event last Wednesday and helped to set a new Guiness World Record with over 40,000 Australians who observed the moon at more than 285 venues at the same time.
While the final number of participants is still being processed, the turnout far exceeded expectations making a vast improvement on the previous record of the Australian National University of 7,960 people. Before the official event on the lawns of the CSIRO Parkes Observatory's Visitors Centre, people observed the moon, Jupiter rising behind the dish and several other stars with the Central West Astronomical Society (CWAS) telescopes. Les Dalrymple's 18-inch behemoth, which he built himself, was a big hit with everyone.
At 8:25 PM (AEST) precisely, the record attempt began. Dr Alan Duffy, who featured at Parkes for the Stargazing Live programme on ABC TV the previous night, officiated as the prime time-keeper. His assistant was Chris Green, as the second time-keeper, while Tricia Trim of the Visitors Centre was the witness and John Sarkissian acted as steward ensuring everyone kept their optical devices at the moon, for the entire ten minutes.
Each participant who took part in the record-breaking attempt will receive an official Guinness World Record participation certificate.