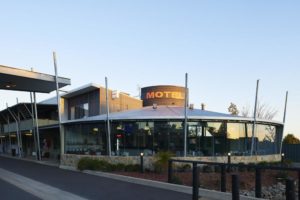 The Station Motel in Parkes has a lot to celebrate for its 10th anniversary this weekend. Opened on 24 September 2007 by Cr Robert Wilson OAM the Station was one of a kind with its steel, glass and stone features. Going back to what the ethos of the Station's design was, the property has undergone a few changes with the addition of the new outdoor barbeque area, orchard and vegetable gardens. What hasn't changed is the rural outlook, warm country welcome and superb food and wine.
With the experience of recently appointed chef Peter Wilkinson, the new menu focus is on rustic food, sourced locally as much as possible. Peter loves creating classic dishes, and this is exactly what invited guests can look forward to at the 10th anniversary four course degustation dinner.
Each course will be matched with selected wines chosen by vintrepreneur Jo Bennet from Treasury Wines. The Station Motel has maintained its Certificate of Excellence from Trip Advisor for the past seven years and is currently ranked number one in the Parkes region. The management, staff and invited guests of the Station are looking forward to celebrating these milestones on Sunday night.