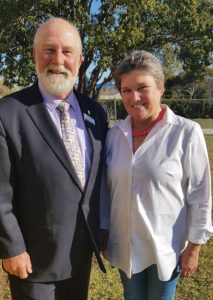 Councillors Ken Keith OAM and Barbara Newton were returned to the positions of Mayor and Deputy Mayor respectively at a Mayoral election on Tuesday. Councillors voted to fill the Mayor and Deputy Mayor positions by ordinary ballot during the September Ordinary Meeting of Council held at the Tullamore Bowling and Citizens Club.
Ken celebrates his 10th year in the position, Barbara marks her third term as Deputy. "I am tremendously proud of what we have been able to achieve during this term of council thus far and I look forward to what the next two years has in store for our region," said the Mayor.
The Deputy Mayor said: "It's an exciting time to be on council – the next two years will see the delivery of a number of major projects for our community." "We have been planning and lobbying for these projects for a number of years and I am delighted to see them come into fruition. I look forward to continuing to add value to our community as Deputy Mayor."
They will hold office for the next two years, and this will be the last election for the positions for the current term of Council.