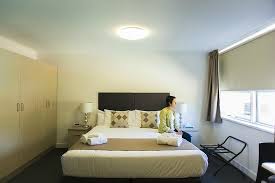 EVERYTHING YOU NEED AT NORTH PARKES MOTEL
North Parkes Motel, formerly known as Country Comfort Parkes, offers 35 spacious rooms with reverse cycle air-conditioners, Foxtel, free WiFi and large ensuite bathrooms. All rooms are non-smoking with ample off-street parking. The Motel features an indoor heated pool and spa (for guests only), licenced restaurant open Monday to Saturday (open to outside diners) and a buffet breakfast every morning.
The North Parkes Motel has everything to offer for that overnight stop or short break for families, couples or business travellers. They are situated at the Dubbo end of Parkes at 54 – 56 Peak Hill Road. They look forward to welcoming you, give them a call on 6863 4333.
NEW OWNERS AT SPANISH LANTERN
The Spanish Lantern Motor Inn is under new ownership, with Richard and Kerrie Whale ready to welcome travellers. Richard and Kerrie took over the Spanish Lantern in June this year, and have more than 12 years of experience in the motel business. In looking for a new venture, they settled on the Spanish Lantern when they discovered that the rooms were already in good condition, with new cabinetry, furniture and features like reverse-cycle air conditioning ready to go.
With some improvements planned to modernise the exterior and increase the street appeal of the business, the Whales are looking to gradually building the business while maintaining the quiet charm. The Spanish Lantern is now also pet friendly, perfect for travellers with their furry companions. See www.spanishlantern.com.au for
more information and bookings.
FOUR STAR BOUTIQUE ACCOMMODATION AT GRACELANDS
Gracelands has long been a feature in Parkes, particularly with its long association with the Parkes Elvis Festival.
However, the new Hotel Gracelands sees some of the best accommodation in Parkes, with the motel opening with new rooms in 2013. Owners Terry and Margaret Campi welcome guests to 20 boutique four star rooms, which are all indoors at the quietest motel in Parkes. Most rooms have views over the town of Parkes.
Although well away from the highway and the noise of heavy vehicles, Hotel Gracelands is only a short distance from
the businesses of Clarinda Street. There is also IKON restaurant and wine bar on site, so guests don't have to stray
too far if they'd rather stay in. Visit www.gracelandsparkes.com.au for more information and bookings.