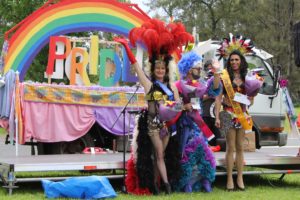 Dubbo was a sea of colour as hundreds of people turned out to celebrate the Central West Pride March in Dubbo last Saturday. The parade was full of vibrant flags and extravagant costumes as participants played up to the event's Carnivàle theme. A rainbow float led the march through Dubbo's main streets to the delight of onlookers, with many shops and businesses showing enthusiastic support for the event. The parade ended with a community fun day at the
park, where entertainment included a jumping castle, photo booths, sausage sizzle, face painting, and information stalls.
The crowd was also treated to performances by Talbragar Wiradjuri Dancers, The Stepping Out Dance Factory, live music, and of course a fashion parade. The region's second Pride March demonstrated a resounding show of support for the diversity that exists within the Central West. A range of individuals and organisations took part in the parade; groups from Wellington Council, Australia Post, Uniting and Barnardos joined the celebrations.
The march was led by headspace Dubbo and Connected Communities Project Rainbow Alliance as part of Mental Health Month to raise awareness around the mental health issues facing the LGBTQI community. Next year's parade promises to build on this success, bringing plenty more colour and sparkle to the Central West.