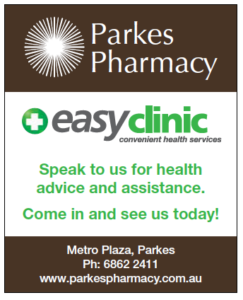 Stop your blood sugar from becoming type 2 diabetes before it is too late!
Did you know diabetes:
• Is the leading cause of blindness in working age adults.
• Is the leading cause of kidney failure and dialysis.
• Increases the risk of heart attacks and stroke by up to four times.
• Is a major cause of limb amputations.
• Affects mental health as well as physical health.
• Depression, anxiety and distress occur in more than 30% of all people with diabetes.
This is where your friendly staff at Parkes Pharmacy can help. They are available at any time to discuss Type 2 diabetes prevention and management.
There are no early symptoms of high blood sugar. Many Australians have undiagnosed type 2 diabetes and don't realise this is damaging their bodies. What's more, 60% of type 2 diabetes can be prevented! The good news is, our pharmacists can conduct a simple check for you to learn your risk and help prevent type 2 diabetes before it's too late.
One of the best ways to prevent diabetes is to cut back on your sugar intake. For the average person, you should limit your intake to six teaspoons a day. Sugar can be hidden in so-called 'healthy food', so learn how to read food labels – every 4g of sugar is equivalent to one teaspoon.
Diabetes Australia estimates that 2 million Australians are at high risk of developing Type 2 diabetes and another 500,000 have undiagnosed Type 2 diabetes. Undiagnosed (and poorly controlled) diabetes can lead to the health complications listed above, so it's extremely important to get yourself assessed. Come and see us today!