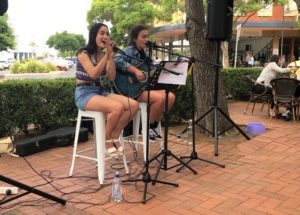 The Parkes central business district has come alive with sound and colour the past month with street performers adding to the festive cheer leading up to Christmas. The initiative by the Shop Parkes Christmas Campaign has brought lots of local talent out on the street for the whole community to enjoy. The artists range in age, experience and genre.
They include young emerging acts Hannah Dun, Gemma Ellis and Annabelle van Wyk, who all had great success at the Australian Busking Championships this year, to up and coming performance artists, sister duo Birdee and Georgia Sideris, and wellknown local groups, the Parkes Shire Concert Band and acapella ensemble, Tapestry.
"It has been a great experience," said Georgia Sideris, who has been performing on her own and with her sister Birdee for the past four weeks at the Roasted Combi Cafe.
"It is a great location to play, and people said they enjoyed the music while having something at the café."
A key objective of this year's Shop Parkes Christmas Campaign was to increase trade for local businesses and to keep shopping dollars local. According to Parkes Shire Council's Marketing and Branding Manager, Katrina Dwyer the idea was to activate the main street to attract more patrons and to encourage businesses to extend their trade offering.
"This was done through installation of lighting and projections, opening up of Christmas Central on Thursdays and Saturdays offering free gift wrapping and concierge services and live music."
The live music component was implemented to complement the late night trading days to encourage people to stay longer and enjoy local hospitality outlets. The artists will continue to perform until Christmas and you can hear them tomorrow (Saturday) from 10am to 2pm on the corner of Church and Clarinda Streets near the Roasted Combi Café, and outside Christmas Central at 203 Clarinda Street.
By Maggi Barnard