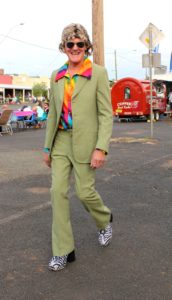 The Trundle ABBA Festival officially kicks off tomorrow with over 5,000 visitors expected to attend.
The Staging Post is showing several films including Marley this afternoon and The Last Waltz tonight. The music trivia event at the Trundle Hotel is tonight at 7pm with the Ambassador of Sweden to Australia, Pär Ahlberger asking several rounds of questions.
If fashion is more your bag, you won't want to miss the Fashions of the Festival tomorrow with a catwalk gracing Trundle's famously wide main street with several prizes for best dressed female, male, couple, and group, most Swedish dressed and the inaugural Celia Vild Memorial Best of the Best.
Following on from this immensely popular event is the professional dance display and disco competition, with Tristan MacManus and Alana Patience taking to the stage be- fore judging the disco competition.
Other scheduled events not to be missed include the I do, I do, I do, I do, I do wed- ding vow renewals at the Trundle Hotel tomorrow, and the world record attempt for the most number of people dancing on Trundle's main street at 4pm. The most highly anticipated event of the festival is the performance by Bjorn Again – the world's number one ABBA Tribute band. Their performance kicks off at 5.30pm at Berryman Oval.
Amitie, the singing trio from Parkes, and the Kransky Sisters from rural Queensland will also be performing. Amitie will perform songs from the 50s, 60s and 70s with their amazing combination of tones and fabulous harmonies.
The Kransky Sisters will offer light relief with their popular award-winning musical concert. Utilising a kitchen pot, toilet brush, keyboard, musical saw, tuba, guitar and dueling tambourines the three weird yet endearing spinsters present offbeat covers of songs ranging from Nana Mouskouri and Eurythmics to Talking Heads and The Bee Gees.
Tickets are on sale now from www.123tix. com.au and there will be a ticket booth in the main street if you haven't pre-purchased your tickets.