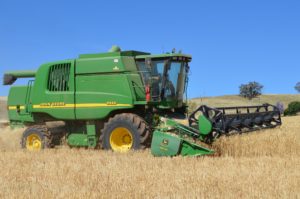 Parkes Shire Council will be working with growers and heavy vehicle operators this harvest season to mitigate potential hazards on the Shire's roads. The Shire's Director Engineering, Ben Howard said: "Restoring the road network is our highest priority. "Council controls over 2,000 km of roads within the Shire and are in the process of
fixing the damage temporarily for harvest.
We have seven graders working six days per week to restore the truck routes and access roads." Road users can expect to see a significant increase in heavy vehicle movement on the road network during harvest and Council is urging everyone to take extra care.
"Road users need to be aware of the limitations of these heavy vehicles in terms of stopping distances, speed limits and movement limitations," said Ben. Report road damage to Council on 6861 2343.