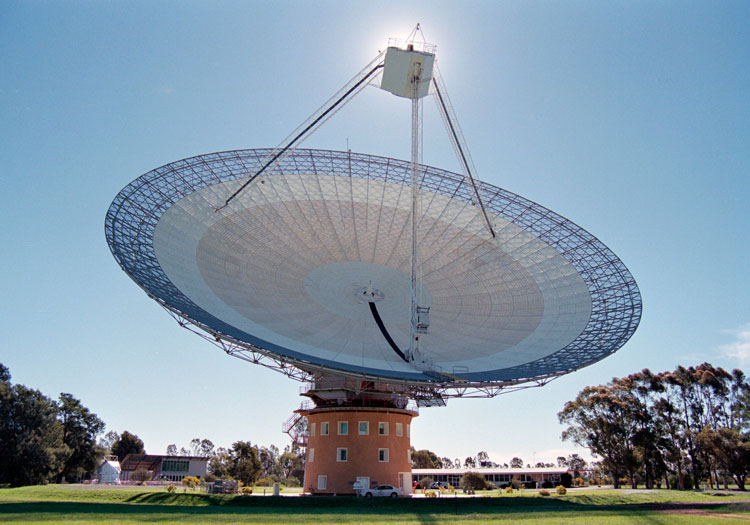 CSIRO's iconic Parkes radio telescope will get a new receiver that will significantly increase the amount of sky it can see at any one time, enabling new science and supporting local innovation in the space sector.
Australian Research Council Linkage Infrastructure, Equipment and Facilities (LIEF) grants have been awarded for the development of a new receiver for the Dish, and a major upgrade for the Australia Telescope Compact Array near Narrabri in NSW.
A $1.15 million LIEF grant will support a $3 million project to build a sensitive receiver called a 'cryoPAF' for the Parkes radio telescope. The new cryoPAF will sit high above the Parkes telescope's dish surface and receive radio signals reflected up from the dish. Its detectors will convert radio signals into electrical ones, which can be combined in different ways so that the telescope 'looks' in several different directions at once.
The cryoPAF will be cooled to -253°C to reduce 'noise' in its electrical circuits, enhancing the ability to detect weak radio signals from the cosmos at frequencies from 700 MHz to 1.9 GHz.
The grant was led by the University of Western Australia, which will coordinate construction and commissioning of the cryoPAF. CSIRO will design, build and install the instrument.
Professor Lister Staveley-Smith from The University of Western Australia node of ICRAR, who led the grant application, said the cryoPAF had three times more field of view than the previous instrument, allowing quicker and more complete surveys of the sky.
"The new receiver will help astronomers to study fast radio bursts and pulsar stars, and observe hydrogen gas throughout the Universe," he said.
CSIRO has previously designed and built innovative phased array feeds for its ASKAP telescope in Western Australia, and a test version of the cryoPAF was used successfully on the Parkes telescope in 2016.