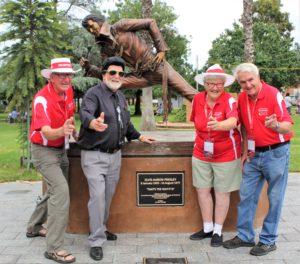 Parkes can now boast a Premier, and a King! A statue of Elvis has been erected on permanent display in Cooke Park to ensure his legacy will forever live on in Parkes. Parkes Shire Council partnered with the Elvis Revival Inc (ERI) committee to commission Terrance Plowright, who also sculpted Henry Parkes, to ensure continuity with the theme of existing public art in Parkes.
Elvis wore The Chain Suit, as featured on the statue, for the first time while filming Elvis: That's The Way it Is. The statue is called That's The Way It Is, and its plinth has eight sides, which was Elvis' favourite number and his date of birth. There are also eight inspirational quotes placed in the paving around the statue.
"We wanted to get away from all the other poses and liked this one in particular," said Lorrain Job of ERI. "If you stand in front of him and look up at his face you should see him smile as in the original photograph he was smiling at an audience member."
The new landmark will be officially unveiled by the Governor of NSW on Saturday at 11:15am.
By Maggi Barnard