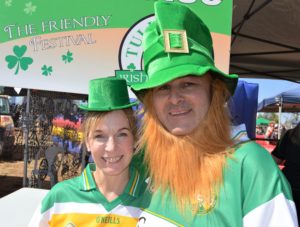 With a variety of events and activities for all ages, the friendly Tullamore Irish Festival provided a full day's entertainment last Saturday, celebrating the best of two cultures, Australia and Ireland.
The morning began with the street parade, featuring community organisations as well as street performers, officials and locals. Groups of onlookers mingled along Cardigan Street dressed in a diverse range of fashions with a common green theme. After the parade passed by, people stopped along the street to grab a coffee, or to watch street performers, before heading down to the showground.
Although it quite quickly became unseasonably warm for this time of year, many people still embraced the spirit of the festival, dressing up to the nines, wandering around to check out the stalls, visiting the art exhibition, watching a shearing demonstration, or sitting down in the shade to watch the entertainment. Children flocked to the rides, or to the ice-cream vendors.
The Festival was officially opened with an Acknowledgement and Welcome to Country ceremony performed by local Wiradjuri youth, followed by an address from Michael McCormack, Deputy Prime Minister of Australia. Shortly afterwards, Parkes Councillor Barbara Newton announced the winners of the 'Wearing of the Green'.
The entertainment continued throughout the afternoon, with musical performances by both Irish and Australian artists, as well as dancing performances by the Halloran Dancers. The day's program ended with a concert by John Williamson. Attendees of the Festival came from a range of places, including a couple that originally hailed from Tullamore … in Ireland!
"This is our first time at this Tullamore," said Pat Hanlon. If you like to dress up, eat a variety of food and drinks, while away the day listening to music, and have a laugh or two, why don't you head along to the Tullamore Irish Festival next year.