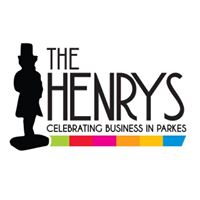 The Parkes Chamber of Commerce has extended the deadline for nominations for the Henrys to Wednesday, 30 August. Over 40 nominations in nine categories have been received so far. "It is exciting to see that our Start-Up Superstar (Best Business under two years) has attracted much interest, and the category of Young Entrepreneur (18-35 year old) is hotly contended with already five nominations received," said Belinda McCorkell of the Chamber.
Hughes & Co Lawyers and Conveyancing, KicXstart Motorcycles, Parkes Indian Cuisine, Parkes Sportspower, Bent Food & Wine, The Parkes Phoenix, Central West Marine & Mechanical, Ron Dunford Chemist, Odds & Evie, Parkes Services Club, Currajong Disability Services, Astrodish Motel, Parkes Ready Mixed Concrete, La Bella Medispa, Parkes Betta Home Living, 2PK/ROK FM, Dooleys Outdoors, BDN Kitchen & Joinery and the Railway Hotel are just
some of the nominees vying for the prestige of winning an award at the gala presentation night on Friday, 20th October.
You can enter on the Chamber website at www.parkeschamber.com.au. Links and regular updates are posted on The Henrys – Parkes Business Awards and the Parkes Chamber of Commerce facebook pages. Hurry – only five days left to enter!