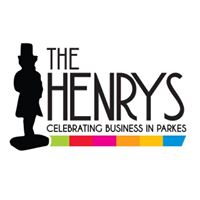 Nominations for The Henrys Business Awards are streaming in as the deadline of 23rd August is fast approaching.
The annual awards have generated great interest, as winners in all categories have automatic entry in the Regional Business Awards. This is a tremendous opportunity to get professional recognition and marketing to peers, prospective clients and the regional community.
The online entry system and independent autonomous judging process will ensure the awards are judged unbiased.
The categories are: Business Leader; Young Entrepreneur; Best Business under 2 years (Start-up Superstar); Excellence in Hospitality and Tourism; Excellence in Manufacturing, Agriculture, Mining, Industrial and Trade; Excellence in Personal and Lifestyle Services; Excellence in Professional Services and Excellence in Retail.
The Parkes Chamber is happy to assist prospective nominees with the entry process. Contact the Chamber at chamber@parkeschamber.com.au or www.parkeschamber.com.au.
The Awards will be presented at a gala night at the Parkes Services Club on Friday, 20th October.