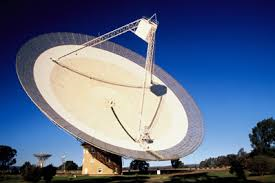 This National Science Week, we are asked to think about "Game Changers & Change Makers." There is no better example of this than what we can find in our own backyard – the CSIRO Parkes Radio Telescope.
The telescope has stood quietly in the middle of a sheep paddock for nearly six decades – a fixed landmark for those used to its existence, a wonder to those who visit, and a powerhouse for scientists across the globe. Since 1961 the telescope has been evolving and is now more than 10,000 times more sensitive than it was when it first opened its radio eyes.
Although the Dish may be best known for its role in the Apollo missions and helping broadcast mankind's first steps on the Moon, the telescope has played pivotal roles in numerous scientific breakthroughs.
Parkes has time and time again been called on by the likes of NASA and the European Space Agency to help track some of the most successful space-based missions.
In 1973, Parkes was the first telescope to discover a stream of material trailing our nearest neighbour galaxies, the Large and Small Magellanic Clouds. This formed a more complete picture of the "neighbourhood" in which our galaxy, the Milky Way, resided.
In 1998, observations taken with the then new multibeam receiver proved that our Milky Way was responsible for the destruction witnessed between the Magellanic Clouds.
The multibeam receiver is considered by many to be the single most productive and successful astronomical instrument the world has ever seen. In addition to mapping out our local neighbourhood, the dynamic duo of Parkes with the multibeam receiver have discovered more than half of a specific type of star known as pulsars.
Pulsars behave like cosmic clocks and observations of them allow us to test some of the most extreme physics – including gravitational waves and Einstein's general relativity.
Earlier this year, Parkes had another upgrade with the installation of a receiver called the Ultra-wide Bandwidth Low (UWL). In the past, most telescopes either studied objects as they changed over time, or recorded how they change with wavelength, or "colours".
The new receiver will make Parkes the first telescope in the world able to do both at the same time opening up an entirely new window through which we can study the Universe.
The CSIRO Parkes Radio Telescope stands as an icon of Australian scientific achievement – constantly looking out for the next big discovery.
* CSIRO hosts and manages a wide range of science-ready national research facilities that are used by thousands of Australian and international researchers each year. This includes Parkes radio telescope, part of the Australia Telescope National Facility, which is funded by the Australian Government.
By Jane Kaczmarek