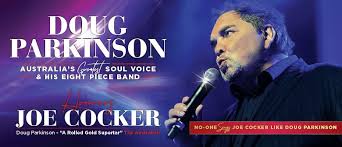 If you are a Joe Cocker fan don't miss Australia's greatest soul voice Doug Parkinson in his ultimate tribute coming to Dubbo on 22nd June.
It will be a night of soul and rock classics with electric current running high generated by a very talented eight piece band and of course the powerful and unique voice of Doug Parkinson.
Joe Cocker was an irresistible force that combined a love of American soul music with standout interpretations and depth of feeling, terms often used to describe the soulful smoky voice of Australian singing legend Doug Parkinson.
Cocker is most famous for what he did with other people's songs like Hitchcock Railway, Delta Lady, You Can Leave Your Hat On, She Came in through the Bathroom Window, The Letter, You Are So Beautiful,Up Where We Belong and Cry Me A River.
Just a few of the songs Doug Parkinson has included in his show and leaves the audience spellbound. Doug is not only an entertainer but an amazing vocalist.
Doug is also a multi award winning artist of soul and rock and box office hit musicals. (See details of show on front page.)