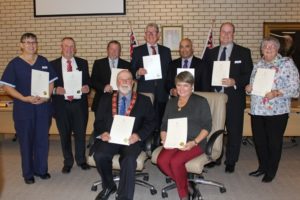 Councillor Ken Keith had the mayoral chain hung around his neck once again when he was re-elected uncontested at the Council meeting on Tuesday.
The position of Deputy Mayor also remained in the hands of Barbara Newton. As for the rest of the newly elected Council, announced last Friday, three new faces had made the cut. They are Neil Westcott, Wally Biles and Bill Jayet.
The ten councillors in order of the position they were elected starting at number one are Ken Keith, Louise O'Leary (Ind), Neil Westcott (Ind), Kenny McGrath (Ind), Wally Biles, Barbara Newton, George Pratt, Bill Jayet, Alan Ward and Patrica Smith.
Mayor Ken Keith said he it was great to have diversity and a new variety of inspirational and enthusiastic Councillors. "I look forward to serving the next term."