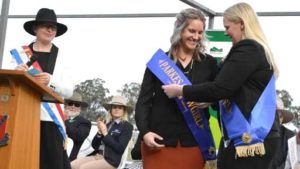 The Parkes Showgirl competition is looking to find a vivacious young woman aged 18 to 24 to be an ambassador for Parkes and the wider community. The winner of the Parkes Showgirl competition will become the face of the Parkes
Show. The winner also has the opportunity to go on to compete to at the zone finals and may even go on to be the Land Sydney Royal Showgirl!
By participating in the Parkes Showgirl competition you will be amazed at the personal, professional and networking opportunities that can open up for you. You will also have the chance to win approximately $1,500 in prizes donated by local businesses, increase your exposure to the wider community, meet with community leaders and increase your awareness of the local show and community.
The 2017 Parkes Showgirl Dinner will be on 12th August at the Parkes Town Bowling Club at 6:30pm to meet the entrants. Entry forms are available from the show office in Welcome Street or on the Parkes show website at www.parkesshow.org.au