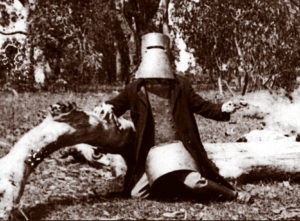 Remember the days of home movies? If you have any lying around at home that are of national significance you can be part of the 'Last Great Film Search'. Conrad Mill of Reel Smoke, a Parkes production company and advertising agency, is keen to get residents of the Central West to rummage around to see if they can find any reels of film in boxes, sheds, under the house or in cupboards and to contact him on 0431 967 365 for an assessment on the
contents.
"There are two types of film that may be gathering dust," said Conrad. "Home movies which are usually on the standard 8, super 8 or 9.5mm, or 16mm reels that were dearer. Commercial films screened in cinemas or at events were generally 16 mm and 35mm."
Conrad is working with the National Film and Sound Archives (NFSA) in Canberra and will not charge to assess commercial films. The NFSA preserves our film history and they are interested in anything from newsreels and commercials to full or partial feature films. "They are not interested in home movies unless it is of national significance, like the opening of the Sydney Harbour Bridge for example."
According to Conrad the NFSA does not buy films. "They rely on donations and the goodwill of the public. We have a fairly poor history of archiving our old films and many are still missing." The 'Last Great Film Search' was launched in 1982 by the NFSA and some surprising results have turned up.
Australian film history goes back to 1906 and has been recognised by UNESCO for making the very first feature film in the world. 'The Story of the Kelly Gang' was a six reeler running for over an hour and ten minutes. It was the longest film in the world at the time and made for a whopping 1,000 pounds, a considerable amount of money back then.
In 1975 the NFSA only had a few seconds of the film. In 1978 another 64 metres was found in a collection belonging to a former exhibitor. The entire film is 1,200 metres long. In 1982 someone found more of the film on a rubbish dump, and in 1996 more was discovered in London. "Who knows, maybe some of the missing footage is here in the Central West!" said Conrad.
Conrad became interested in staging a film search after numerous requests from clients to transfer their old home movies to DVD to share with friends and relatives. "While I can transfer super 8 and standard 8 digitally, larger formats of film have to be done at the NFSA and preserved properly."