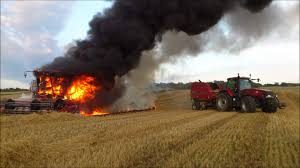 There are a number of elements that add to the risk of fire on harvesting machinery. Most of these can be monitored, maintained and addressed to avoid fires. According to Kondinin Group research, dust and trash build-up on the machine and bearing failures account for around half of harvester fires.
Mechanical failures are implicated for one in 12 harvester fires. While static electricity is regularly blamed for starting fires, static discharge does not have sufficient energy to ignite crop dust.
Reducing harvester fires requires minimisation of the fuel and the ignition source with regular clean downs of the machine, particularly in dusty crops and those that have suffered mould and disease. In extreme cases a blowdown every boxful may be required.
Bearing failure is the cause of one in four harvester fires. Buy an infra-red thermometer (around $50) and monitor bearing temperatures, keeping a log of discrepancies. Some pulse crop plant material can ignite at temperatures as low as 130°C. While this can vary by seasonal conditions, there are plenty of components on a harvester that exceed this. In most cases much of the exhaust stream can exceed this.
Harvester exhaust system components can be insulated with ceramic coatings, moulded amorphous silica and insulating jackets to significantly reduce the area of high temperature.
(Source: GRDC.com.au)