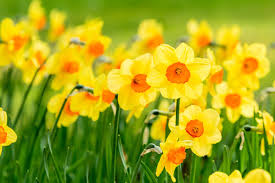 Wear a daffodil pin to show support for someone you know. Today is Cancer Council's Daffodil Day, a national day of hope and an opportunity for people across the region to contribute to a brighter, cancer-free future. More than 650 sites will be in full swing across NSW, staffed by more than 5,000 volunteers, including over 100 sites in Western NSW to encourage people to buy merchandise to show support for someone they know. In addition to Daffodil Day merchandise sites, NAB branches in Parkes and Forbes will be hosting morning teas with all proceeds going to Daffodil Day.
This year marks 30 years of Daffodil Day in Australia. As the largest national fundraising event in the southern hemisphere, this year Cancer Council hopes to raise $2.6m in NSW and $6.7m nationally. Since its inception, Daffodil Day has raised over $133m for life-saving cancer research, support services and prevention programs. "By buying and wearing a pin, locals can continue contributing to life-saving cancer research, advocacy, prevention programs and support services," Brianna Carracher, Daffodil Day Coordinator, Cancer Council Western Region said.
"Everyone knows someone who has been affected by cancer, with one in two Australians predicted to be diagnosed by age 85. Get out there, wear a pin, and give some fresh daffodils to someone you know," Brianna said. To find out where you can purchase a pin, please visit https://www.daffodilday.com.au/get-involved/where-to-buy/ or call
1300 65 65 85.