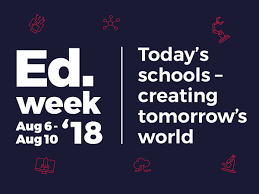 The future of education will be showcased in NSW public schools next week as students, teachers and parents across the state celebrate Education Week 2018. This year's theme, Today's schools – creating tomorrow's world, highlights how NSW public schools are equipping young people with the skills and capabilities they need to thrive in a rapidly changing world.
Mark Scott, Secretary of the Department of Education said a young child who started Kindergarten this year would leave the school system in 2030. "He or she is going to spend the vast amount of their working life in the second half of the 21st century," he said.
"Our schools are very future-focused, preparing and equipping young people with the skills, the knowledge and the capabilities they need to lead and flourish in tomorrow's world."
He said Education Week would be a great opportunity for public schools and teachers to showcase great teaching and learning practice.
This Education Week, the Department of Education is also launching an exciting initiative called The Game Changer Challenge. Sixteen teams from schools across NSW will explore the role of design-thinking in the classroom all while solving the important question, what will the school of the future look like?
NSW Education Week is an annual event held in the first week of August to celebrate public education across the state. It highlights the achievements of public education and local schools, putting the spotlight on students, educators and school communities.