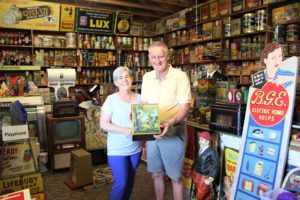 We are all collectors, but Ian and Judy Chambers have set themselves apart over 50 years of working together as professional treasurers. They have not only owned a collection of businesses, but Ian the hobbyist has amassed an amazing treasure trove of old Australian comics, corner shop items and tin toys.
The entrepreneurial and industrious couple was recently recognised for their life's work by being awarded the Ken Birch Memorial trophy at The Henrys business awards. "We have lived in Parkes all our lives, and we both started work at the then Central West County Council in 1966."
In 1978 they bought Coulston's Jewellers, changed the name to Reflection Jewellers, and nine years later installed the first onehour photo lab in Parkes. In 1997 they sold the jewellery shop, only to get back into business about 15 months later purchasing the Video Ezy stores in Parkes and Forbes, which Ian said had been the most enjoyable business to run.
"People always came into the shop in a happy mood." In 2000 their son Dave and his partner Tracey took over the management of the two stores and incorporated both stores shortly after as Discount Tobacconists. The sad news is that the video part of the shop is closing down, but the good news is the business is moving back full circle to
where the jeweller shop used to be at 225- 227 Clarinda street, and will be expanded to include a men's gift ware section. Next door is Dad and Daves – father and son's collection hobbies turned into business.
Ian and Judy continue to fill in as required, while also being very active in the community. Ian served as a Councillor for 12 years among other things, has a keen interest in the history of Parkes photographing the shops and businesses for the past 40 years and published a book in 1988.
"We feel pretty privileged and lucky with what we have done in Parkes." They have not only preserved history but
have accumulated a treasure trove of stories too as every item in their vast collection has a wonderful tale attached to it.
By Maggi Barnard