A very special connection was made on Sunday when CSIRO's iconic Parkes radio telescope and two smaller telescopes were given traditional names.
Murriyang, the name chosen for the 64m telescope also known as The Dish, connects the oldest scientific tradition in the world, astronomy, with the oldest continuous civilisation in the world.
Murriyang represents the 'Skyworld' where Biyaami (Baiame) lives – a prominent creator spirit of the Wiradjuri Dreaming.
"This is a very, very proud day for our people," said Elder Dr Stan Grant, who revealed the names. "This is one of the biggest things ever to happen to our people. Thank you for this!"
"We've always had a connection to the sky, and today we have one with the telescope," said Elder Ralph Naden, who performed in the smoking ceremony and dances, and also happened to celebrate his 75th birthday on the special day.
CSIRO's Parkes staff worked in collaboration with Wiradjuri Elders, the NSW Aboriginal Education Consultative Group and the North West Wiradjuri Language & Culture Nest for over two years on the naming project.
CSIRO Chief Executive Dr Larry Marshall said Australia had a rich heritage of exploring the world and the stars. "It is humbling to link our early steps to connect to the Universe with that ancient wisdom," said Larry, who was represented by John Reynolds of the CSIRO.
"We're honoured that the Wiradjuri Elders have given traditional names to our telescopes at Parkes, to connect them with the oldest scientific tradition in the world. Giving the telescopes traditional names acknowledges and pays respect to the astronomical knowledge of Aboriginal and Torres Strait Islander peoples."
"The plan affirms our commitment to reconciliation with Aboriginal and Torres Strait Islander peoples, the oldest living culture in the world. It recognises them as the first people of Australia and respects their enduring connection to lands, skies, waters, plants and animals. As we move forward together, we will look back to moments like these and see our footprints side by side, wherever they may be."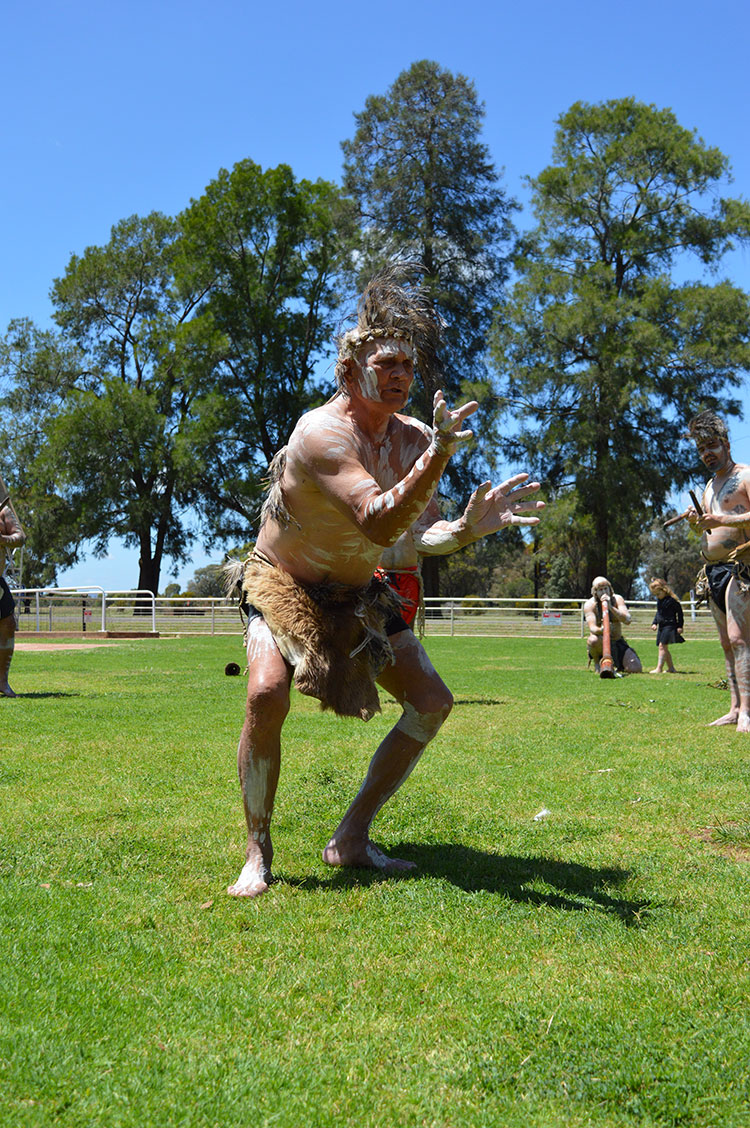 John introduced the three telescopes at Parkes. The 18-metre decommissioned antenna has been named Giyalung Guluman, meaning 'smart dish'. It had the ability to move along a railway track while observing. The antenna was originally assembled at the CSIRO Fleurs Radio Telescope site, Penrith NSW in 1960, was transported to Parkes in 1963 and became operational in 1965.
The baby of the family is the 12-metre ASKAP testing antenna that was built in 2008 and named Giyalung Miil. It means 'Smart Eye' and was commissioned as a testbed for a special new type of receiver technology (phased array feed – PAF) used on CSIRO's Australian Square Kilometre Array Pathfinder (ASKAP) antennas. The PAF is able see different parts of the sky simultaneously making it a 'smart eye'.
John said the famous 64m 'Dish' had been described as the most productive scientific instrument Australia had produced. "It's 60 years old next year, but is the perpetual youth of the family as we keep upgrading it."
"As an astronomer I look back in time. In 2004 we discovered the double pulsar – a pair of collapsed stars locked in kind of intricate dance. The weak radio signals we picked up here were sent 4,000 years ago when the Wiradjuri ranged these lands, unhindered."
By Maggi Barnard