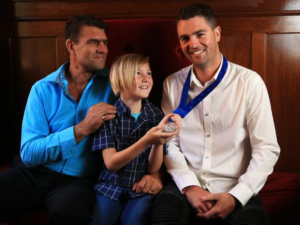 According to some of the great philosophers our true character is revealed by how we react under pressure. On a Saturday afternoon in October one such moment put Parkes carpenter Travis Boland to the test. It was a split-second decision to rescue the occupants of a smouldering car wreck that proved Travis was a hero, and last week he was one of fifteen brave Aussies to be bestowed with a Pride of Australia Award in recognition of his courage.
Travis and his family were travelling along the Renshaw McGirr Way, between Parkes and Wellington, when they witnessed a horror crash. The car ahead of them veered off the road, hit a tree and flipped. The experience was surreal, but the shocked husband and wife immediately stopped to help. Belinda called triple zero, while Travis approached the vehicle to assist the occupants: Bill Phillips and his nine year-old son, Rawson.
By the time he'd reached them there was a small grass fire surrounding the wreck. Travis could see a jerrycan in the back of the car, and remembered the driver filling it up at the service station. "There was a moment when I thought it could go either way," Travis said. "There was smoke and flames coming from the bonnet, and I could see stuff dripping off the car. I stopped for a moment, but then I heard the screams and kept going."
With his own children anxiously looking on, and knowing that the car could explode at any moment, Travis smashed a window, and helped pull first young Rawson, and then Bill out of the wreckage. Within minutes the flames were inside the car. There is little question that Travis saved their lives. In October the attending officer, Inspector Steve Munn, said if Travis hadn't got them out of the vehicle, they would have died.
While Travis was awarded a medal for his bravery at the ceremony in Sydney last Thursday, for him the real prize was seeing Bill and Rawson in person again. The accident survivors were special guests at the event, and the surprise reunion was emotional. "They look much better than when I last saw them being strapped into the helicopter," he said.
In the past few weeks Travis has been overwhelmed with all the media attention and accolades. However, he says best thing about it all is making his four kids proud. "It's pretty special to see your kids look up to you like that," he said. The Boland children have coped remarkably well considering they witnessed such a traumatic event. Travis said the family have been open and used it as a life lesson. "The kids witnessed a lot that day, not just the accident, but they got to see the emergency services in full operation, which is incredible." The incident has also given pause for some reflection. "You realise that life is very short and things do happen," Travis said. "It makes you look at life a little bit differently. Certain people come into your life for a reason."
Regardless of whether it was a case of being at the right place at the right time, or if there was a grander scheme at play, there are a lot of people who are thankful that Travis Boland crossed paths with Bill and Rawson on that day in October.
By Raen Fraser