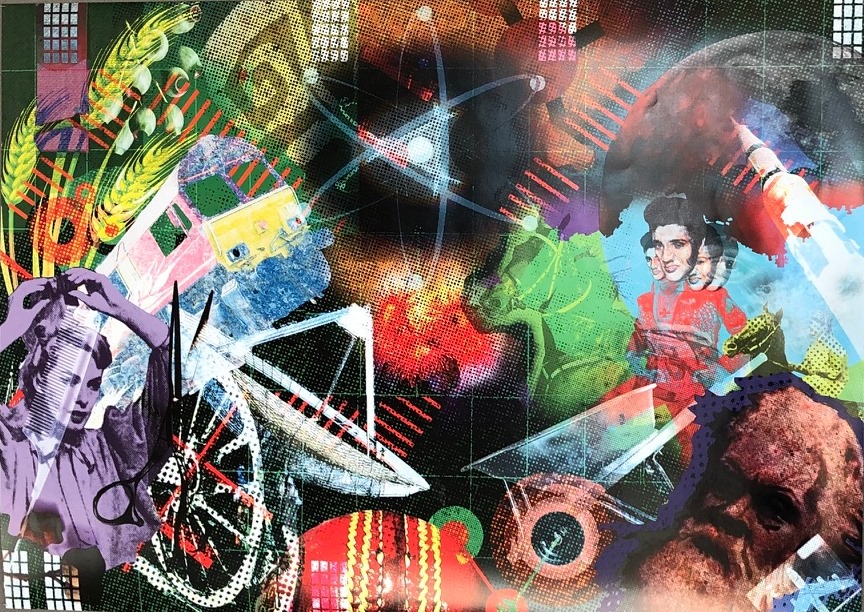 Take an orbit around the Parkes CBD this weekend to view the outdoor public astrothemed art installations. The Astrophotography Community Wall, featuring previous David Malin Astrophotography Award winners can be found on Westpac's wall, on the corner of Court and Clarinda Street.
Spot the Astronaut flying high over the Coles carpark before heading 'To the Moon and Back' at the Cedar Café. This free art exhibition featuring Apollo 11 inspired artworks by local Parkes youth will be on display from 19 July – 3 August.
As the sun goes down, admire the stellar light and project installations scattered throughout town. See Parkes icons come to life on the Woolworths Wall along Clarinda Street, featuring artwork by local artist, Sean James Cassidy with accompanying audio by local poets, Kerrie Peden and Jim Cassidy. The multimedia projection show
will come to life after dark until 10pm, 17 – 21 July 2019.
"It's been a pleasure to be given the opportunity to present my graphic designs and art in my home town," Mr Cassidy said. "It was my family who first drew my attention to the skies when I was a child growing up. I was also surrounded by the presence of the Radio Telescope and could actually see it from my grandparent's farm.
For many of my childhood years, astronaut was my career of choice."
Straight from Sydney's Royal Botanic Gardens as part of Vivid 2019, the KA3323 light installation strikes an ecliptic resemblance to 'The Dish'. www.vividsydney.com/event/light/ka3323. The satellite dish installation will illuminate Cooke Park from 19 to 21 July – best viewed after dark.
A number of local businesses have teamed up to make moonwalking into Parkes a breeze. The Apollo 11 deals include:
• Stay + Save at the Aastro Dish Motor Inn
• 11% off at The Dish Shop and 3D Theatre admission
• Kids visit the Henry Parkes Museums FREE
• 11% off merchandise at the Parkes Visitor Information Centre
• FREE colouring-in pack with every Galaxy Freakshake at Deja Brew
Visitors are encouraged to take advantage of the Apollo 11 deals available until 31 July 2019, and explore all the unique events, attractions and experiences that the Parkes
destination has to offer. Head to www.visitparkes.com.au for the full list of events and activities happening this weekend.