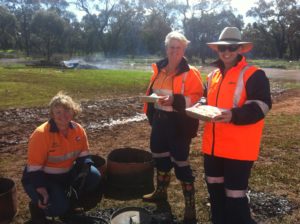 More than a thousand festival-goers made it through hell and high-water for the Bush Tucker Day at Trundle last weekend. With roads flooded across the region, there were fears that the annual festival would be washed out, but the scores of intrepid travellers proved that nothing could rain on this parade.
Festival president Donald "Digger" Anderson said he was thrilled with the turnout. While they were expecting double the crowd, the numbers weren't that far off last year's turn-out. "Even with everything stacked against us, it was still a hugely successful event," he said, "and it's only possible thanks to the dedicated committee and volunteers".This year marked the 30th anniversary of the festival, which is held on the first Saturday in September. It began as a grass-roots, family focused fundraiser for local charities, and is now a major highlight on the region's calendar.
Digger suggested the entertainment is the key to its growing success. What started off as a cook-out has evolved to be a jampacked day of family-fun, with a lot of people coming to see the show. Country music legend Troy Cassar-Daley was a popular inclusion in this year's lineup. "When the music started you could really see the full extent of the crowd," Digger said. "Usually the crowd stirs up a bit of dust, but this year it was clear as a bell, thanks to all that rain." While some events were called off due to stranding, there was still plenty to keep the festival-goers amused, with loads of country-themed shenanigans, such as the hilarious bushman's relay, the billy boiling competition, and whip-cracking and sheep sheering demonstrations. But let's not forget the food.
With bush cooking competitions, demonstrations, and free taste testing, Trundle was well and truly tuckered out.
By Raen Fraser