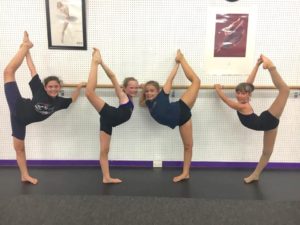 Twinkle Toes Dance Studio is the only studio in the region offering Acro classes!
Acro, or acrobatic dance, is a great fusion of funky dance, tumbling, contortion and acrobatic elements. With a focus on flex- ibility, strength, balancing, limbering and tumbling, our class progressions take the beginner preschool level dancer from log rolls and summersaults to the advanced dancer tumbling effortlessly across the stage!
Acro dance is an excellent style that teaches kids about the fundamental skills in dance, but also to never give up! We encourage our dancers to persevere and gain confidence from their achievements.
Contact Twinkle Toes on 0439 229 976 for more information on classes.