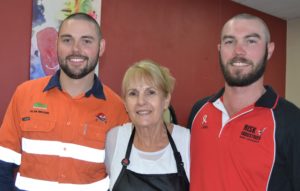 Two Parkes men are on a mission to help save other women's lives after they lost a very important person in their lives on Christmas Eve.
Joel and Talan formed Team Breaden last month and shaved their heads on Monday in memory of their mother and mother-inlaw, Leanne Breaden. Leanne, also known as Maggie and former Principal of Parkes Public School, lost her 13-month battle with ovarian cancer in December last year.
"We have been overwhelmed with the response from Parkes residents, friends and family who have helped us raise more than $7,000 in just over three weeks," said Talan. The amazing response from the community quickly wiped out their targets of how short they would cut their hair, and on Monday their trendy hairstyles landed on the floor of Adele's Salon when Adele Hawke used number 0 to give them a buzz cut.
As Leanne looked on with her familiar smile from a framed photo on the counter, Talan went first under Adele's razor. It is the fact that Leanne, like so many others with ovarian cancer, was not diagnosed until it had spread throughout her abdomen, that has encouraged Joel and Talan to raise funds for the Ovarian Cancer Research Foundation (OCRF).
"There are too many similar stories, and that's why we're raising money to help find an early detection test, and to create awareness among women of the signs and symptoms," said Talan. "Everyone has a mum, sister, aunt or cousin.
Less than 30% of women diagnosed at a late stage will survive more than five years." Leanne was diagnosed in late 2016 and underwent chemotherapy and major surgery, only to have the cancer return almost immediately with a terminal diagnosis.
Joel said they hoped to reach $10,000 and planned to hold two fun days in the near future. The donation line on the everydayhero website will stay open until August. If you would like to support their cause, go to www.everydayhero.com.au pop into Adele's Salon or at any of the local schools where there are collection envelopes.
Parkes Public School joined the challenge this week with a mufti day and gold coin collection in support of Team Breaden.
By Maggi Barnard